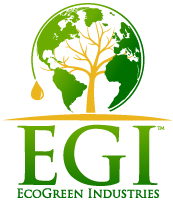 EcoGreen Industries, or EGI as it's known, is a market leader that was founded in 2013 and was one of the first to provide direct supply gas for the extraction industry, primarily for large-scale cannabis and hemp extractors. The pursuit of quality solvents equating to better end quality products continues today.
EcoGreen Industries' founders are experts in extraction. They helped to invent the industry blend gases still used today. EGI is the first company to blend butane with propane and offer this combination for sale to resellers and customers. We guarantee 99.5% purity, but periodic testing has it as high as 99.97% on some tests. We offer 4-phase decontamination and cylinder cleaning, free shipping for a return, and eco-friendly refill for all our cylinders. Additionally, we offer recovery and vacuum pump repair services offered by our experienced technicians. We also pride ourselves on our free return shipping on full pallets of our large cylinders (LP-100s).
This is an ALL indoor storage facility with temperature control, storing the gas at room temperature. We have the ONLY indoor cylinder, full storage facility permitted west of the Mississippi. We also have an offsite filling station that is NOT a subcontractor — we can fill ourselves! Similarly, all quality gas solvents and ethanol are sourced stateside. If you are on the west coast, products can be delivered within 3 days.
Not only do we offer the most competitive solvent prices on the market, but EGI values building long-term relationships with our customers, and we greatly appreciate their loyalty to us. Quality customer service is a guarantee. Whatever it takes, within reason, we will handle it.
For quite some time, EcoGreen Industries was one of only two sellers of gas across the nation. Obviously, there are several choices now, but as an exclusive, manufacturer-direct supplier, we are proud to be the first extraction experts to start distributing, filling, and checking gas and cylinders for quality and cleanliness. "Industry pros helping pros" is our tagline and we live by that every day. Contact us today to speak with an expert that may answer any of your questions.